Wire Mesh Sponge Scrubber: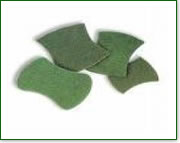 We supply two types of metal wire sponges. One is Sponge metallic mesh scourers, the other is metal scrubber pads made with sponge and metal cleaning wire balls. The second one is a kind of improved scrubber products protective to your hands and the cleaning targets. This product is made of stainless steel with sponge base, feel comfortable, not hurting hands, can easily remove stubborn stains.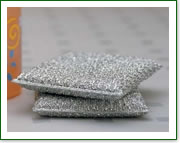 Cleaning Sponge stainless steel scrubber with sponge base:
Material: sponge & stainless steel
Any size and different color sponge is available
The cleaning ball parts materials: Stainless steel ss410 ss430 ss304

It can be used on walls, tables, fixtures, counter-tops, floors, utensils, and stainless steel stove hoods. It will not rust, splinter or corrode. Very aggressive sponge makes easy work of tough cleaning jobs.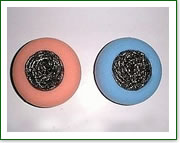 Taolin supplies all kinds of sponge product. Such as mesh bath sponge, cleaning sponge, bath sponge, car sponge, memory foam sponge, craft sponge ( fruit shape, flower shape, animal shape, cartoon shape, etc), scouring pad, cleaning brush and other sponge products.

Stainless steel wire ball sponge for kitchen use:
This stainless steel cleaning ball made of ss410/430
Weight 18-20G per PC are all available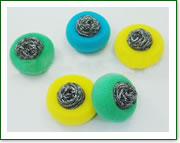 Features
1. Stainles and without rust, anti-mildew, anti-badterial
2. Sprial design, secure and won't hurt your hands
3. Dru quickly and lasting
4. Effective to clean away the stubborn stains
5. Ideal for: Fry pans, kitchen, utensil, stove, BBQ rack and other ware with tough dirt