Galvanized Scrubbing Pad:
Galvanized wire processed mesh srubbers are economic cleaning tools with unit weight ranging from 8 to 80 gram. Surfaces are bright silver shining galvanized wire or red copper plated. The galvanised wire scourers are made of either flat wire or round wire. Popular galvanized flat wire is 0.22mm and round wire is 0.20mm.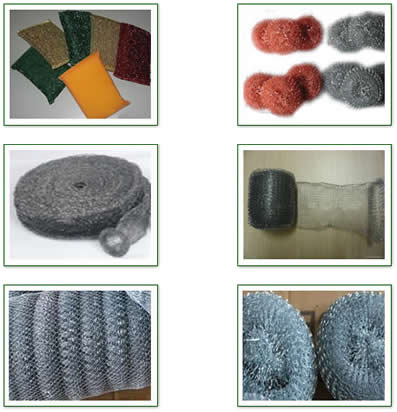 Pad Shape size: Diam 8cm--13cm
Material: Diam 0.20mm, zinc coated 40g/m2 high quality galvanized wire, shining and brigt.
Application:
1. Family, hotel, restaurant for washing pot;
2. Bowl and gas cooker, industry and construction for metal;
3. Chinaware, marble surface, glass eliminating.
Main Market: Africa, Asia, America
Features:
1) Not easy to change shape
2) Long live and not easy to change shape
3) Bright and shining, without smell
4) Well winding
5)Powerfull cleaning function

Also known as galvanized mesh scourer, galvanized mesh scrubber, mesh scourer, red copper coated scrubbing wire.

Popular Galvanized Scourer Wire Types: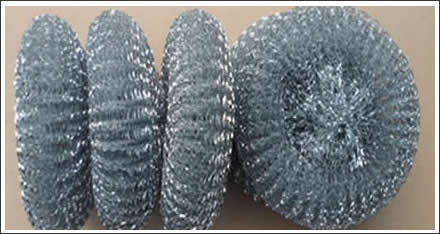 Zinc Plated Bright Scrubbing Wire:
Unit weight: 12g, 15g, 18g, 19g, 20g, 25g, 40g, 50g, 80g, 100g, etc,as per client's request.
Uses: For kitchen and housewares cleaning, offering strong cleaning capacity without causing any scratch or being grease prone. Harmless to your skin and to the smooth surface.
Red copper color coated galvanized cleaning ball:

Red Copper Plated Galvanized Mesh Scourer, wire diameter 0.18mm to 0.22mm
Weight can be made according to the consumer need(5grams to 100grams)
Packing according to the consumer require(OPP bag, blister card,color box and in bulk)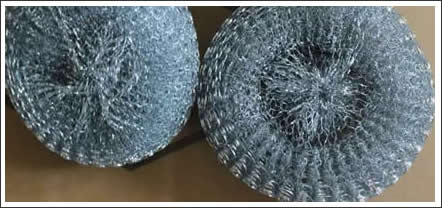 Low Carbon Steel Wire Material for Making of Galvanized Scourer Pad Wire:
1. Material: High quality low carbon steel wire or Q195
2. Wire gauge: 8#-28#(4.0mm-0.37mm)
3. Application: To produce sponge scourers, cleaning balls, springs, stee wire ropes, brush and other uses.
Galvanized Steel Wire Specification:
| | | | |
| --- | --- | --- | --- |
| Gauge | SWG in mm | BWG in mm | metric mm |
| 8 # | 4.06 | 4.19 | 4.00 |
| 9 # | 3.66 | 3.76 | — |
| 10# | 3.25 | 3.40 | 3.50 |
| 11# | 2.95 | 3.05 | 3.00 |
| 12# | 2.64 | 2.77 | 2.80 |
| 13# | 2.34 | 2.41 | 2.50 |
| 14# | 2.03 | 2.11 | — |
| 15# | 1.83 | 1.83 | 1.80 |
| 16# | 1.63 | 1.65 | 1.65 |
| 17# | 1.42 | 1.47 | 1.40 |
| 18# | 1.22 | 1.25 | 1.20 |
| 19# | 1.02 | 1.07 | 1.00 |
| 20# | 0.91 | 0.89 | 0.90 |
| 21# | 0.81 | 0.813 | 0.80 |
| 22# | 0.71 | 0.711 | 0.70 |