Metal Wire Cleaning Ball:
Taolin supplies spiral wire cleaning sponge made of galvanized steel wire and stainless steel wire. We have all kinds of cleaning and polishing pads, such as zinc plated galvanized mesh scrubber, copperized mesh scourer, stainless steel wool scourer, sponge, scourer with plastic handles. Rust resistant and flexible.
Stainless Steel Spiral Wire Cleaning Balls enjoy strong cleaning capacity suitable for home, garden and industry uses. Wire Diameter ranges from 0.125-0.19mm for Stainless Steel Wire. Made by full-automatic operation machines with high accuracy of unit weight. Made of Spiral Stainless Steel wire AISI 430, 304 and 410 grade. Non rust, soft, in different sizes and kinds of package. Suitable for household application.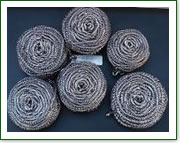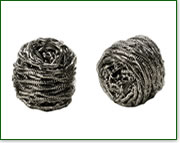 Features:
Harmless to your skin
To make the surface smooth
Economically, strong cleaning capacity
Without causing any stretch or being grease-prone
Galvanized knitting wire mesh scourer cleaning pad is ideal cleaning tool for kitchen and household uses. Also written as pot scourers or brush scourer pads. Diameter 0.2mm for making mesh scourer normally.
Cleaning Pad Material: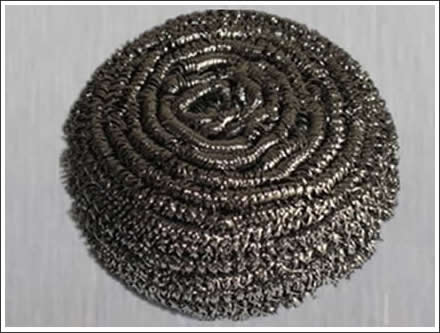 Stainless steel wire, also galvanized wire, copper wire and brass wire.
Weight:
10g,12g,15g or According to buyers' requirements
Stainless Steel and Galvanized Steel Metal Pot scourer varieties:
Hot Dipped Galvanized pot scourer
Copperized pot scourer
Stainless steel pot scourer
Brass wire pot scourer
Stainless Steel Cleaning Ball Sponge:
1.Material:stainless steel
2.Diameter:0.12 or 0.13 mm
3.Weight:5-80g/pc
4. soft for hand
Packing: any packing method for your choose
1) 1/2/4pcs in poly bag
2) Blister packing
3) bulk packing
4) hanging card packing etc.
Advantages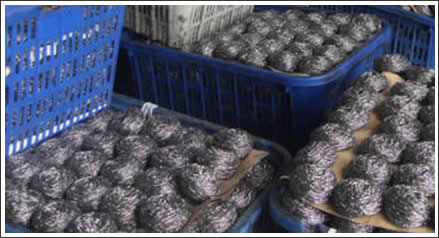 1)Not easy to change shape
2)Long Live and Anti-Rust
3)Bright,without smell
4)Well winding

Steel Wire Cleaning Ball/scourer/scrubber with brass plating:
Materials: Galvanized steel wire
Wire Diam: 0.15mm
Weight: 20g
Package: Packed in carton
MOQ: 1000kgs

Use: Dish Washing Cleaning Balls

It is widely in kitchen to clean and household ware's cleaning.
It doesn't hurt the pots & pats, of course, dont also hurt our hands.
There are 8-30g/pc and follow your requirement.