Stainless Steel Scourer:
Stainless Steel Non-abrasive Mildew Proof cleaning pad for kitchen uses. Made of stainless steel fiber SUS410, 430 or SUS304. The scourers keep clean without being stained with oils. Two processing methods for stainless steel scourers: knitted mesh scourers and spiral wire scourers. The knitted mesh scourers cost higher compared with spiral wire.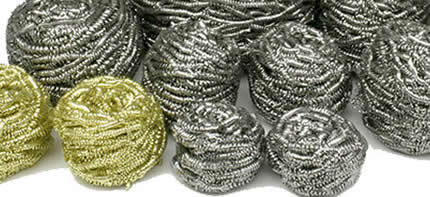 Major Products Types include SS Cleaning Scourer Pad, Stainless Steel Sponge with Handles, 410 SS Scourers and 430 Stainless Steel Scourers. With imporated technology and equipment from Germany, our metal scourers are made by automatic machinery that can operate wire drawing, knitting, cutting, seperating and winding together.
Stainless Steel Scourer General Introduction:
It is widely in kitchen to clean and household ware's cleaning;
It doesn't hurt the pots & pats, of course, doesn't also hurt our hands;
8-30g/pc is popular specifications and custom orders acceptable;
About the package, it can be packed in OPP bag, ploybag, blister card, hanging card and follow your requirement.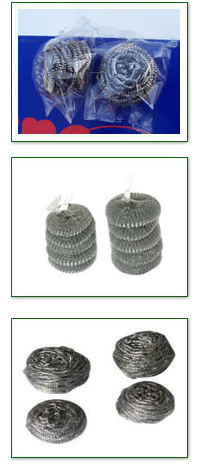 Specification
Gram weight: 8--80g
Shape size: diam 8cm--13cm
Main Market: Africa,Asia,America
Advantage
1)Not easy to change shape
2)Long time use
3)Bright and shining, without smell
4)Well winding
5)Powerful cleaning function
6) Stainles and without rust, anti-mildew,anti-badterial
7) Sprial design, secure and won't hurt your hands
8) Dry quickly and lasting
9) Effective to clean away the stubborn stains
10) Ideal for: fry pans,kitchen , utensil,stove,BBQ rack and other ware with tough dirt.

Major Products
Stainless Steel Cleaning Sponge with plastic handles:
Stainless steel wire cleaning ball for lab.
The sponge is dismountable.
This product is used to scrub glassware and stainless steel products, No sharp edges to scratch surfaces or irritate hands.
Non-scratch stainless steel 410 cleaning scourers:
For all kitchen and dish-washing needs. Works especially well on dishes, glasses, pots, counter-tops etc.
This product is widely used in cleaning the dish ware and other products, for kitchen , vacuum and bathroom family necessity.
Stainless steel cleaning ball of 15-20g:
Packing pcs/opp bag/color board pcs/mesh or customized;
15g cleaning mesh ball for kitchen;
Strong cleaning, harmless to your hand and any pots, pans;
Effective to clean away the stubborn stains.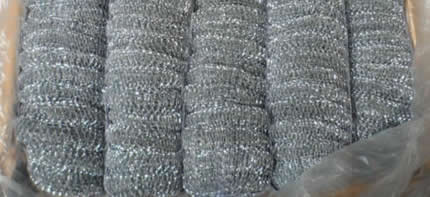 Spiral Wire 0.12-0.13mm Scourers:
Ideal for kitchen and housewares cleaning, strong cleaning capacity without causing any scratch or being grease prone, Harmless to your skin and to the smooth surface.