Metal Scourer Production Line:
This machine has a full automatic operation system with digital control. It is used to produce two types of metal scourers, both common scourers and spiral wire scourers. The wire cleaning ball scourers produced by this machine can be made of stainless steel wire, galvanized steel wire, copper coated iron wire, etc. The output is high as 12kg per hour. The scourers can be produced with weight ranging from 6g to 60g with adjustable accurate unit weight. Designed with automatic stop device to save raw materials and labor cost. The finished cleaning scrubbers produced by the machine is widely used in hotel, factory, kitchen, bathroom and so on.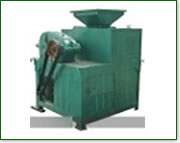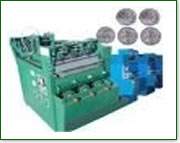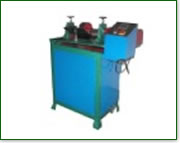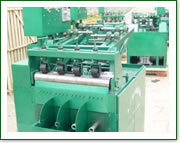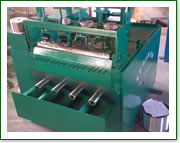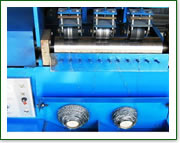 Unique Design Features:
1. Motor accelerating: from 0 to1600r/m within 0-5 seconds,stable and constant without breaking wires.
2. safe operation: Full-automatic scourer ball-dividing system. Final scourer separating melted down by low voltage controlled. It made shearing more accurate, sharper and safer.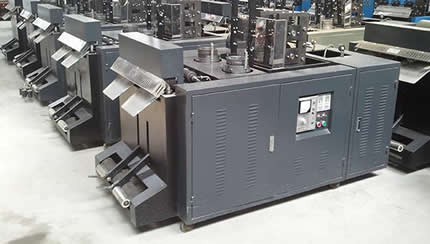 3. Working condition of six-wires single scourer ball or six-wires treble scourer balls in the speed of governor running from 0/s up to 1600/s circles. This is the best way to examine whether the scourer making machine will break and jam the wires, the output level,and whether its design is reasonable, too. The performance and output of this equipment is leading in the field of the same metal scourer making machinery type.
4. Our scourer scrubber making machine is collocated with the electrodeless governor of 2.2kw (the common machine collocated with governor within the 1.5kw is unable to finish high-speed operation of multi-wire into single scouer ball.If the machine collocated with governor of 2.2kw is unable to finish the six-wire by single person operation,it will be power-waste).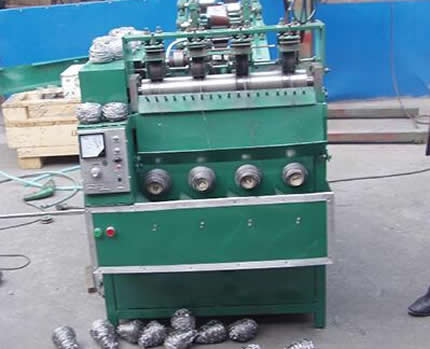 5. The feeds of materials suit for iron wire, galvanized wire,stainless steel wire, brass wire, etc, which can make different scourer scrubbers at one time on one machine.
6. In the aspect of intellectualized-designing, the size of the separated scourer ball adopts full-automatic management of Computerized Numerical Controlling, which thoroughly eliminates the primitive way of counting by time and reminding the operator of separating scourer balls by light glittering, the weight accuracy of each scouer ball is controlled in 0 error.
7. The scourer balls separate automatically after formed. Appearance of the scourer ball can be adjusted discretionarily according to the different consumption levels.
8. Six-wires treble-scourers making machine is operated by single operator in the processing of wire material feeding, forging pressing,planing, stretching, and Computerized Numerical Controlling scourer ball separation, etc. It has strong stability and fine compatibility.
9. The machine enjoy automatic stop design to save labor and wire materials with easy operation.
10. Not only compression rollers and weaving parts have each separated speed ratio of transmission system, but wire-broken stop motion also works well.
11. Automatic cutting with high performance air compressor system, its shearing tools are hidden blades with multi-sides sawtooth utilizing the latest company technology. It makes the shearing more accurate, sharper and safer.
12. Easy operation, one worker controls multiple machines. Wire loading, flatting, mesh waving, and scourer shearing, all finished in one time.
Major Machine Types:
1. 8 wire 4 balls machine for making spiral scrubber
Output 12-15kg per hour
Item Size(cm) 180*100*165
Power 2.2KW
Power Supply 380 or 220 volt
Package Way export shipping wood case
Net Weight about 350kgs
Gross Weight 450KGS
Wood Case Diamension 145x105x122cm
95x85x95cm
1*20FT qty about 12pcs
1*40HQ qty about 29pcs
2. Double Needle Scourer Machine:
Output: 32~48KGS/8Hrs for mesh scourer
Power SupplyAC 380V AC 220V (Custom-made)
Stepless Speed Regulation, Japanese OMRON time controller, PHILIPS sensor automatic counting, size and weight of final scourer could be preset as per requirement.
Output capacity of Double-Needle manufacturing is twice as much as an ordinary mesh scourer making machine.

The machine use eddy-currebt couplinng motor to adjust the speed of piner roller, use transducer to adust the speed of knitting machine to keep proporiation of both machine in perfect.

Adjust pressure roller speed by the electromagnetic speed regulating motor, and adjust the knitting speed of the rolling machine by the transducer, keep the perfect allocated proportion of both speed. At the same time, this machine install micromatic setting of knitting speed, when machine operates, it will automaticly control the squash and knitting speed, thus it can adjust the mesh size of the products very conveniently, settle the difficult problem of the machine thoroughly.

3. Stainless Steel Scourer Making Machine:
Output: 64kg/8hrs
Full-automatic operation, available for spiral scourer!
Producing general scourer just by exchanging the multi-lines system
Material wire setting: 3wires doubles scourers
Full-automatic scourer ball dividing system
Final scourer separating melted down by low voltage controlled
Materials feeding: 0.13mm-0.2mm stainless steel wire
Motor power (kw):2.2kw
Power supply AC 380V
Metal Wire Cleaning Pad Products Made by Our Processing Machines: