Stainless Steel Wool Scourers:
Stainless steel wool scourer is a soft fine cleaning pad retaining the strong cleaning capacity of the metals. Popular in Germany and other Euro countries used by housewifes cleaning the pots, cooking pans. Popular size is 50gram per unit.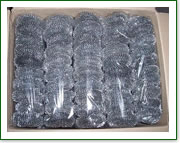 The wool scourer is made with fine stainless steel fibers. Non-rusting, no smell, anti-bacteria and corrosion resistant.
Varieties of Steel Wool Scourers: From super fine to extra coarse styles.
Super fine steel wools:
Smoth lacuer, varnish, shellac and polyurethane. Cleaning precision tools.
Extra fine steel wools:
Scuff sand between coats to remove imperfection. Remove paint drips and splatters, remove wax or polish from fine furniture with soap and water.
Very fine:
Remove old finishes from antiques and stains from wood floors. Clean and polish metal fiber wheels, screens and metal furnitures.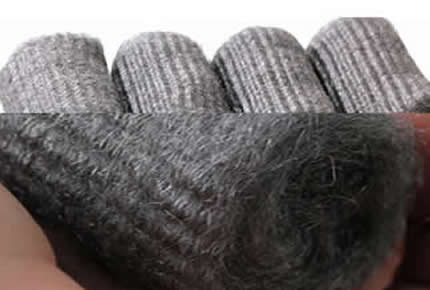 Fine steel wools: cleanness
Medium fine:
Prepare wood or primary coating and smooth raised grain. To clean copper pipes and fittings.
Medium coarse grade:
Remove paint from moulding and awkward corners
Coarse grade steel wools:
Clean rough metal or stove surfaces
Extra coarse:
Remove the most stubborn paint, rust, dirt and varnish.

Copper Coated Wire Mesh Scrubbers:
packing: to be packed in tansparent oly bag
weight 20g/pc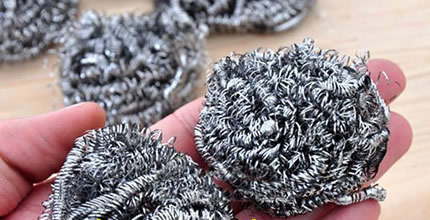 We are manufacturer and exporter of kitchen cleaning scourers and metallic wire fibers for making scourers. We supply galvanized wire mesh scourers, stainless steel spiral scourers, copper coated wire mesh scourers, brass scourer and various wire for making of scourers.
Unit weight of 12g, 15g, 18g, 19g, 20g, 25g, 40g, 50g, 80g, 100g scourers can be supplied or as per client's request.